i decided as i was looking for something to do during lockdown that i would
review this phone (Pixel 3a) i bought on impulse last year
why did i buy a new phone
i've had 6 smartphones over my short pathetic life
samsung galaxy mini from christmas 2013. and that's a mini, not an S mini or anything. hand me down from stodgy uncle. it was a real piece of shit with no front camera, a pithy rear camera and no flash, and a screen with garbage resolution although it instilled in me the belief i still keep that plastic screen covers are good. the battery was garbage i think too. i had a lot of fun tinkering with the software (after bricking it the first day i had it and having to send it to repair, oops) this phone ran at any point a rotation of cyanogenmod 7 gingerbread, a really cool stock rom modification called emanon, and a totally unstable port of cyanogenmod 11 kitkat.
zte open c. begged for this from ebay because i believed in the firefox os project but zte never updated it, and the newer fxos versions looked cool but were still useless. there was one guy porting android to this thing and they were okay ports. this phone does not have a proximity sensor so get ready for either phantom touches during phone calls or confusion over whether android crashed again. i can't remember a lot about this phone. whatever
moto g 2013 in 2014. a good phone with okay battery life but it definitely infuriated me at some point. this also was loaded with all sorts of roms and rams. survived me getting kicked out of schoole

nexus 5x, christmas 2016. a lovely phone, bought to run copperheados a secure fork of android which lasted a while but then returned to stock, cut down in its prime: i cracked its screen by rolling around on the floor like an animal in sixth form, tried to do my own job at a screen replacement, which left the loudspeaker not working, so i took it to a local repair shop who also fucked up the camera 👍 first phone with a fingerprint sensor which i loved almost instantly.had its battery life turned from okay to absolute dogshit by an android os upgrade. might even still be using this phone if it wasn't broken

xiaomi mi a1, described further below.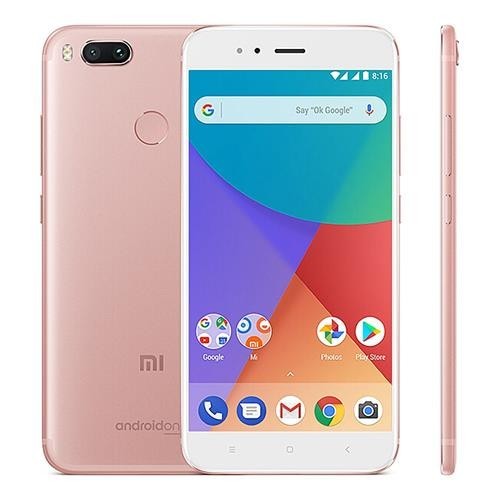 the mi a1 was a replacement for the nexus 5x described above, bought in haste from aliexpress and in rose gold because i was a big egg and i really liked the look of rose gold iphones. this phone is almost identical in its look to an iphone 6s plus.
for its price the mi a1 whipped. it had almost an almost pixel-like stock rom, amazing 2 day long battery life and a good camera. came with a glass screen protector that i cracked on day 1 after really overdoing it at a sesh…
one year on it was starting to bug me. the mi a1 is too wide. without its gunked up and disgusting case, it's slippery metal back was impossible to hold in one hand. its camera sucked in everything but the stock camera app which also sucks. the usb-c port was loose and sometimes you could hard crash the phone by plugging in the charger. finally the fingerprint sensor was only working 10% of the time. oh yeah it's also heavier than the nexus.
at the same point i was interested in using an oled screen phone to save battery life. a search on gsmarena was on to find a narrower phone with a headphone jack, fast charging and an oled screen, and also NFC which was missing from the mi a1. it came down to a straight shot between the very newly released pixel 3a and the samsung galaxy s10e aaaand..
i dropped £400 on a brand new phone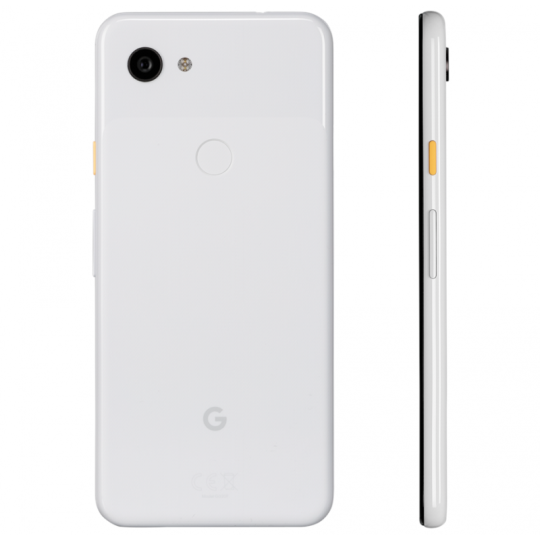 i always get SIM free so that i have the freedom to change networks and install ROMs but this was the first time i a) bought a phone with my own money and b) owned a phone with a price above 200 pounds. so it'd better be worth it. when i first got it, it definitely felt worth it. almost a year on it seems to be worth it because i don't feel like moving on from this phone any time soon. but we'll get to that after we talk about what i got with it…
the pixel 3a fabric case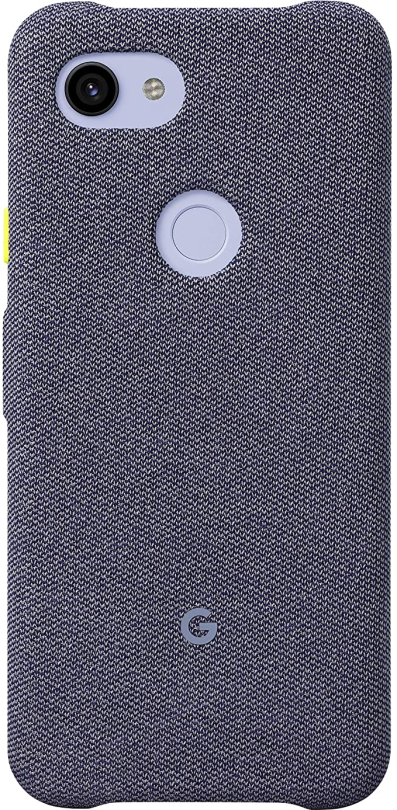 my experience with the mi a1 told me that i needed a case, and here was the one i picked, directly from the google store. the fabric material combined with the narrower width of the pixel 3a makes this the easiest phone to hold i've used since my moto g. it also avoids the design flaw of the mi a1 TPU case by not being captive around the headphone jack and the usb port. it's fairly thin too, not really contributing to the already svelte thickness of the phone. however it has two notable flaws:
the soft touch fabric on the inside leaves residue around the camera cutout when you take it off.
this case is just for grip. it does not protect the phone too well, exacerbating perhaps the biggest problem with this phone:
the screen glass
i've cracked three touch screens so far:
the nexus 5x. as mentioned before, cracked by rolling around on the floor at sixth form probably while i should have been in lesson.
my nexus 7. i either rolled onto it in bed or dropped it the wrong way.
the pixel 3a. dropped walking home 8 miles in the rain in the dark. then i finished it off with the blunt end of a ps4 controller in a epic gamer rage moment over street fighter 4 a few months later
so in retrospect these seem like pretty stupid reasons but what bugs me about the screen on the pixel 3a is that even before the screen cracked it was picking up microscratches and big scratches really easily. i'm choosing to blame this on the choice of screen glass just to make me feel better. the pixel 3a uses Asahi Dragontail glass instead of Gorilla Glass (which really isn't that indestructible anyway). after i cracked it the first time i googled "pixel 3a screen cracked" and noted that there were quite a few other people who had cracked their screen pretty soon after they got the device.. although they were redditors so they probably deserved it.
i had the screen replaced by iSmash a few weeks after i irl overhead punched the glass and destroyed it beyond repair. the replacement doesn't fit as flush as the original and it's still picking up microscratches, so it's leading me further towards the glass material not being up to snuff.
besides that…
build quality
is good. the mi a1 and the nexus 5x's side buttons got gunked up eventually so to feel the pixel's side buttons still being positively clicky after a year is fantastic. another component that has fared well through time is the usb charging port which lost its grip on at least the mi a1 which feels terrible and squishy.
i don't often get to feel the phone out of its case but when i do it still feels great. no phone i've held has quite replicated the feel of the moto g and the nexus 5x's soft touch rubberised plastic, but the sanded finish on the lower back and the glossy but grippy sides combined with the reduced width of the body which is what I was looking for in the first place makes it a pretty great phone to hold: i just wouldn't trust taking it outside however. the fabric case really fills in here. this phone can't really slip out of your hand, you'll only drop it because your brain decided to start juggling with it 🙃
the display
i spent a lot of words talking about the screen so i'd probably best write about what's behind it. one of the things that drew me to the pixel and the s10e is its use of an OLED screen and specifically its ability to turn off the display at #000000. given that the screen is often the component with the highest power draw on the phone, it's a good idea to try and reduce its impact.
firstly, the brightness is not the highest you will find; in fact i find it just a tad too dim at highest brightness in direct sunlight. but it is serviceable if you find the right angle, and perhaps useful more of the time is its quite low minimum brightness, great for when you are binge watching youtube videos at 2am when you have work in the morning, altho it does adjust the contrast a tad to get there.
the colour balance on the pixel is configurable between Natural, Boosted and Adaptive. Natural is the least vibrant but supposedly most accurate profile of each of the three. if you care about, say, whether your pictures you take actually look right on another display, pick this one. Boosted is like increasing the colour value on a telly just a tad, and Adaptive is boosted out the fucking arse. it's probably there to give you your expected OLED 'pop' as you'd see it on a samsung phone, but it can very easily hurt your eyes and i dont use it much since it totally skews the accuracy of any picture on the display.
the last point on the display is that it does have a noticeable black-to-on delay. this is quite obvious using apps in AMOLED black mode, for example twitter, where the avis are chased around by their round silhouettes while scrolling.
the size and aspect ratio is about as good as its going to get for a phone at this point. 66% of the screen is roughly usable using a grip where your pinkie is holding the bottom of the phone up and its not too hard to use 100% of the screen in a slip-n-slide grip without the pinkie hold. finally the rounded corners do be looking nice.
speakers
on the pixel 3a, like the nexus 5 (which for whatever reason caused a massive fuss when it did this), one of the grilles on the bottom next to the usb-c port is for a microphone and the other one is a loudspeaker, and the earpiece doubles up as a speaker too, creating an, at first glance, janky stereo speaker setup that actually works quite well. the two of them are more than the sum of their parts and you can prove this by covering either of them when playing media. either of them sound tinny on their own but great in combination. add to this a plenty loud maximum volume that works in a pinch for blasting your own tunes at your insistence at a picnic annoying your friends. not me tho because my music taste is cool.
camera
the mi a1's camera suffered from a common problem with android phones with fancy cameras: all the logic is stuffed into the proprietary camera app as opposed to sticking it in the driver. this means that apps that are not the stock camera app have reduced image quality, namely snapchat. for example, the mi a1 can take pictures with increased clarity by using its dual camera setup, but snapchat will only be able to use the single sensor.
snapchat also refused to use the latest camera api available to android applications for years, instead choosing to just grab still frames in a loop resulting in atrocious performance with filters and even when the application was in the backgrounded: swiping away snapchat would result in drastically improved responsiveness. nowadays snapchat claims to support the latest camera2 api and even the pixel visual core ASIC, which this pixel does not have.
the pixel 3a's camera is billed as being the same in hardware and software as the pixel 3, which won many awards for being a great camera. i can confirm that it is a great camera; high in clarity, good in motion, not frustrating in low light and with a fairly good zoom. perhaps thanks in part to new versions of snapchat, performance for just usual shooting, video and filters are fine.
as for the camera app, google's camera app has always been good ever since the wider release of it in 2014 (and frankly i think it's criminal that it's now exclusive to google's phones). panorama works as well as it always has, and the headline Night Sight feature makes for fantastic extreme low light shots.
_for more on the camera i'd probably check out [dxomark's review](https://www.dxomark.com/google-pixel-3a-camera-review/) where they scored it just a point behind the pixel 3, effectively in second place at the time of writing_
mikrofon
no complaints here. by all accounts it's clear and comes through good in videos and voice calls. only point against is that it will by default echo everything in a discord voice channel, but i'm choosing to place the blame on discord there.
fingerprint sensor
as mentioned above one of the prime reasons i replaced the mi a1 was because its fingerprint sensor was failing on me. its metal construction meant it picked up skin oils so much it would not even work properly if it was wiped up with my shirt, and would also stop recognising my finger permanently after while. getting the common positions on my finger to unlock the phone was also hard given its size.
while the pixel's fingerprint sensor gets gunked up, it usually resolves pretty quickly, and i've probably only had to recreate my finger's image twice. success!
NFC
the pixel 3a has NFC, the mi a1 does not. while my monzo card has contactless anyway, it sure is useful to not have to dig it out of my wallet.
battery life
the mi a1 had pretty fantastic battery life at least compared to the nexus 5x, using its size as an excuse to pack a 3080mAH battery (1080mAH more than the nexus!). however that excuse wouldn't at least seem to work anymore seeing as the pixel 3a packs a 3000mAH in its marginally thicker but narrower body. the result is both phones can fulfill that requirement of lasting easily through a day and a half. video playback of course drains at an increased rate but not too much.
performance
i don't play 3d games on my phone so this basically focuses on cpu and flash performance, which is not bad. it is at least a tad bit faster than the mi a1. flash performance is also great, and doesn't feel slow at any point.
software
one of the big selling points of both the mi a1 and the pixels is that they run unadulterated "stock" android. of course, in the era of the Android Open Source Project becoming more barebones as google moves more of its software into closed source Play Store-serviced blobs, stock effectively means "whatever runs on the pixel". the reason i bring this up is that the mi a1's software stack was part google, part xiaomi, with the latter being noticeably less polished than the former, especially the camera app.
as for the pixel's software, it has deteriorated slightly over time through updates, but it's the little things like: the font on launcher icons is wrong. the notification dropdown shows the build number instead of the network. the volume buttons still control the media volume by default even if nothing is playing, although that's been broken on the mi a1 too for years. they have added some cool features since i got the phone though, such as a (rudimentary) theming capability that allows you to pick different notification icons, accent colours and some bad font choices.
despite the regressions the overall experience is the same as it always has been. since kitkat google has always had that eye for what should and should not be included, where things should go, and how to make it, if not always elegant, mostly cohesive.
underneath it, of course, is android, and all the things that make it not iOS. open app selection, development without owning an expensive macintosh, and the genre of apps that run full blooded linux environments inside them. sadly though this is endangered, and if the solution isn't great it might just be enough to push me towards only my second iOS device ever if and when the time comes to replace the pixel.
conclusion
throughout writing this overview of each component of the phone it's made me pick up on a great quality for a device to have: the zen of not having any major problems with it. the display has taken quite a few blows since i had it replaced and it hasn't cracked yet, so here's hoping it lasts for many more months to come. performance is absolutely fine, i've nowhere near filled up the internal storage, and i don't feel envious at all of anyone else's phone, although funnily enough my friends mostly have premium-tier pixel 3s and 2a XLs.
i don't really like assigning scores to things, although as you've seen i have a tendency to quickly replace phones that i can't stand. so, i guess that's the award i'll be giving the pixel:
The epicbaby "I Don't Want To Buy Another Phone Right Now" award